Judgment Day 2009 – 17th May 2009
Attendance: 14,822
It's a mere coincidence that the second wrestling PPV review I do is of the same name. Judgment Day 2007, and now 2009. Why not 2008? Well, I don't own that yet, when I buy it, we'll review it. Anyways, on with the review.
Non televised Match: Mickie James vs. Beth Phoenix
Winner: Mickie James
Rating: N/A
Is it really worth commenting? A non-televised match that would've been great by today's standards. Oh well I guess, onto the actual show.
Match 1: CM Punk vs. Umaga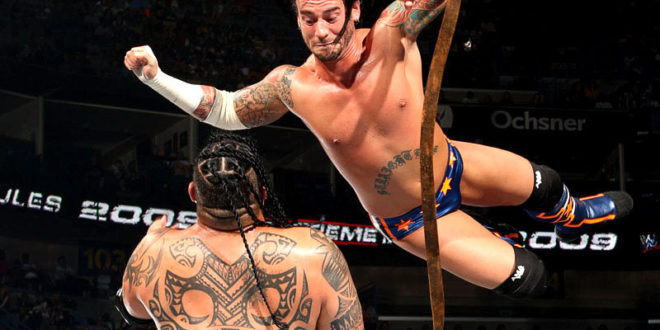 Winner: Umaga
Rating: 2/5
The match definitely started well, the crowd was behind Punk. I mean, if you're going to have an opening match, then you do it with CM Punk. He deserves main event, but it definitely got you hyped for the show with such a good display by a talented performer.
Umaga took an early lead in the match, the crowd were constantly chanting for CM Punk which was great to hear. Punk was selling Umaga's throws extremely well throughout the match. To be honest, Umaga as a wrestler really wasn't the best to watch. This match would have been of no interest to me if it weren't for CM Punk. He makes the guy look strong and an actual threat.
For the most part, Umaga dominated the match. But, to be fair, he went for a top rope move which would clearly miss. I wasn't sure of the point of it, there was no doubt he'd miss. And he did. He dropped straight to the floor. The two managed to recover when a series of counters followed through and the mood of the crowed changed along with the counters. Umaga began to fall before he was hit by a flying clothesline, so that was interesting.
Overall though, I think it's insane that Punk lost in his hometown. It put the crowd in a very sour mood, Punk lost. Think of the reaction if Punk had won, rather than Umaga. It may have saved the PPV.
Segment with Chavo Guerrero
All this segment served for was to further the story line with Big Show and John Cena. Big Show threatened to injure John Cena, with a faux pas I suppose. Oh, but that's okay, Vickie Guerrero supported the decision to beat the shit out of Cena. Then Edge came in and saved the entire scene. Although he was playing a heel, he was being cheered non stop by the crowd.
Match 2: Christian (c) vs. Jack Swagger – ECW Championship
Winner: Christian
Rating: 3/5
I truly believe that Christian is one of the greatest and most underrated wrestlers of all time. The crowd loved him during his reign as ECW champion, and he was a very good champion overall. The problem with the ECW extension was that it was just a bunch of midcarders. No matter, that's a different article entirely.
To be honest, I didn't realise how bloody big that ECW belt was. The taunting between Christian and Swagger was actually quite good, with the crowd definitely behind Christian. Swagger was presented as powerful, much like Umaga with CM Punk. There was a great top rope move by Christian too, with some really well timed moves throughout. To be fair, it felt like the two were relying far too much on being outside of the ring.
Swagger missed his second rope signature and from there it was Christian's match to control. I wont call it predictable, because it was done rather well, especially when Swagger regained control for a brief second. To be fair, Christian missed a diving headbutt, but was soon back into the swing of things eventually.
I'll give credit where credit is due, the two put on a great match. A pair of clotheslines was done very well and to be fair, Matthews and Striker on commentary was great. They commented about the match, rather than around it. There were a lot of roll ups in this match and it happened a surprising number of times. However, we didn't get to see a finisher by Christian, and he won by pulling a guys straps down. Both smart, and ineffective.
Segment with Edge
I genuinely didn't understand this segment. What was the point of it is my main irk. But, just as prominent, what the hell was it about? Something about Edge and his wife? Oh, the Chicago Bears were there too. Thanks for showing that I guess.
Match 3: Shelton Benjamin vs. John Morrison
Winner: John Morrison
Rating: 2/5
Is Shelton Benjamin actually returning to the WWE? Because, after watching this match, I really hope he is. For some reason Charlie Haas accompanied Shelton to the ring. But the match itself was just okay. Morrison tried an over the rope move, the third match to do this, and failed. Shelton had to run ahead to catch him, otherwise he would've broken his neck.
The match bored me if I'm honest. I did find Charlie Haas to be a nice addition to the match overall though, shouting encouragement like a manager could. The problem was though, all of the action blurred in completely.
John Morrison and Shelton Benjamin are two talented individuals, but I just couldn't get into this match. Apparently this match was ten minutes, it felt like a hell of a lot longer to be honest with you. Really this match should have been the opener, and the ECW championship match should have been here instead. To be fair Starship Pain is flippy shit to the extreme.
Impromptu Miz Segment
The Miz came out and gave a promo, like he usually does. Which is basically a shame if I'm honest. Mind you, the promo was fantastic. The Miz insulted the Chicago Cubs who were in the audience, along with the majority of the crow. "What" chants were a frequent staple in the mid 2009s of the WWE, and The Miz managed to avert them completely. A very difficult thing to do, but none the less, fantastic.
To be fair, The Miz manages to garner some great heat as a heel, which is extremely difficult given the climate of wrestling. So by alienating and insulting the crowd, The Miz knows what he's doing, but of course, all good things must come to an end. This time, in the form of Santino Marella. They turned what could've been amazing heat into some form of comedy skit. Thank God The Miz went on to bigger and better things.
What the hell really happened. Chavo Guerrero came out for no apparent reason, yelled a bit, went to leave and then hit a frog splash. Oh, probably because of the Vickie Guerrero thing. I don't know, who really knows. PPVs aren't a good time to start lower midcard feuds.
Interview with Chris Jericho
Oh boy oh boy, another thing that isn't a match. As much as I enjoy Chris Jericho, I would much rather see him in action. He's charismatic as all hell, but come on. Was it meant to ramp up the match? Because literally ten seconds later it cut to the match itself.
Match 4: Rey Mysterio vs. Chris Jericho – Intercontinental Championship
Winner: Rey Mysterio
Rating: 3/5
The champion came out first. Still something I don't agree with, but Rey Mysterio is a great performer. What I thought was great was that when Jericho came to the ring there was a mix of cheers and boos. This was a time when the divide between attitude era and new generation fans was wild. Still, I was looking forward to this match. Two very technical wrestlers that I enjoy watching immensely.
Older members of the crowd were very behind Y2J, chanting his name in the early segments of the match. Another move to the outside, to be honest I miss the matches that stay in the ring at this rate. It's rarer and rarer to see an entire match last more than ten minutes inside of the ring.
See, this match felt like it mattered. Two main event worthy competitors were battling over a belt, and it gave it that well needed prestige. There were some truly beautiful counters within this match, and Jericho played his part fantastically. Again the crowd began to chant "Y2J" which I thought was great if I'm honest. I remember this match, Jericho tries to take Mysterio's mask off. The crowd cheered wildly when Jericho went for the Walls of Jericho.
When he actually did lock the walls in, the crowd genuinely went wild. It was phenomenal to hear, everyone was cheering wildly.  The crowd were behind both men in this match, and that's what makes these matches so fun.
Match 5: Batista vs. Randy Orton (c) -WWE Championship
Winner: Randy Orton
Rating: 3/5
Chicago likes to boo the heels, and I can't respect them more for that. It makes for some great viewing. Unsurprisingly, Batista got a bit of a bigger pop than Randy Orton did. That's fair I suppose though isn't it. Instantly the match begins and Orton exits the ring. Padding I suppose.
The highlight of the early match for me was Orton getting hit in the back and yelling "oh gosh". There was a lot of fighting outside of the ring in this part of the match up. The crowd were a mixed bag if I'm honest. Sometimes chanting "RKO", other times whistling and at some points very, eerily quiet. An apron DDT was dropped on Batista quite early into the match up. There was a very quick succession of signature moves performed and I've looked back up midway through this sentence and they're in the middle of another set piece.
Orton began to try and get counted out on purpose, it's not done often and I thought this was quite smart. The match itself was just sort of, there. It's another match that I watched intently but nothing of note really happened. I was enjoying the latter half of the match where Orton was getting himself counted out. But then, boom, Batista smacks up a referee or something and the match ends. It was such a blur between the disqualification to the next match, Legacy came out I think. But bloody hell was it amazing to see Ric Flair come out and beat on the guys. That saved the whole match for me.
Match 6: John Cena vs. The Big Show
Winner: John Cena
Rating: 3/5
Remember when The Big show was quite a good heel? Oh, right, me either. However, he managed to receive some boos here and it was very interesting to see him. In more recent memory, he's slimmed up, and the weight is muscle rather than fat. I do admit though, in the wake of this feud with John Cena, he did play a good role and it worked for him.
They played up Cena's injury very well and it was so great to hear the Cena Sucks comparison chants again. Big Show dominated the early stages of the match, with Cena trying to gain the advantage but failing to do so. Again the two competitors went outside of the ring, which was interesting, every match so far had members leave the ring. I was impressed at how loud the chops The Big Show delivered were. They quite genuinely echoed around the arena.
Basically the entire match was Big Show throwing John Cena around. Of course Cena turned it around because he's a trooper and can fight through any injury. Big Show did a splash from the turnbuckle, and Cena kicked out before Show could even go for the pin. It would've added so much more drama if he'd kicked out at the last second. Cena managed to botch falling out of the ring, which was awkwardly funny.
Surprisingly, Big Show looked immensely strong. Cena couldn't apply the STF, even though he's done it to Big Show before. And then, boom, match was over, Cena hit the AA.
Jeff Hardy vs. Edge (c) – World Heavyweight Championship
Winner: Edge
Rating: 3/5
Again, the champion came out first once more. Interestingly enough, Edge retained his championship at both Judgment Day 2007 and 2009. 20087 being the first review of any WWE PPV I've written. Why Edge was getting cheered in the video promos and booed on stage, I'll never know. The longest match of the PPV clocks at just under twenty minutes.
And of course, to stick with tradition, an over the top rope manoeuvre. Grisham with J.R. isn't really a good mix. I'm sure many of us would have preferred Jerry Lawler alongside J.R. but I suppose it was not to be. I do enjoy Edge as a wrestler, he's my favourite of all time, however this match really wasn't his best.
Jeff was on the offence for a surprisingly long while during the middle of the match. He got a finisher in but Edge managed to kick out. The spear from the top of the table though was so amazing though. It was definitely the highlight of the match for me. Hardy hit two or three finishing moves but Edge kicked out of every one of them. For a regular match stipulation, Edge and Jeff Hardy spent a lot of time in the crowd and outside of the ring. Matt Hardy also had something to do within the match, I was on my phone so I missed it, apparently he smacked Jeff Hardy. An Edgecution was enough to end the match, and silence a mediocre PPV.