Willy Wonka and the Chocolate Factory was released in 1971. Unfortunately, it received a lukewarm response from critics and the public at the time. Over the years, however, it gained a large cult following. Eventually the rights to the film were bought by Warner Bros. The film was released on DVD and from there it gained a much larger following. It became appreciated much more as a form of media. Personally, for me, it's my all-time favourite film and musical. The late Gene Wilder gives a truly stellar performance as the chocolate innovator, Willy Wonka. Commonly, we think of Willy Wonka as the hero of this story, bringing good fortune to the innocent Charlie Bucket. But is that what really happens?
Is Willy Wonka a genuine caring person, or are his motifs much deeper than candy? Is the specific portrayal of Wonka in this film made to create an illusion of a hero? Could Gene Wilder's portrayal of Willy Wonka be that of an anti-hero?
Obviously the film is an adaptation of the book Charlie and the Chocolate Factory written by Roald Dahl. It's been stated by Dahl himself in several interviews before his death that he hated the film and refused to ever sell the rights to the second book, Charlie and the Glass Elevator or the rights to the third in the series, the final not being finished.
It is worth noting Dahl's hatred of the film. This may have led to a decrease in sales and advertising. If the source material creator is vocally negative about an adaptation, it's a big blow to the adaptation. It may even stifle any hype the piece of media had been receiving. It can make or break a film, and unfortunately in this case it seems to have been a case of the latter. But, like previously stated, the film has found a cult like status in the past decade or two.
Of course, like all older films, this film became the subject of a Tim Burton remake in 2005. Some people enjoyed the film and it received favourable reviews, however personally I didn't like it. I felt as if Burton's portrayal of the factory itself was more fantasy than the rustic, genuine factory look of the original. On top of this, Johnny Depp's performance was probably one of his weakest. Depp's Wonka paling in comparison to that of Wilder. Surprisingly, I've written an article comparing the two films.
These two films did have some major differences however. The main difference is that the 1971 version is better. Also, it's a musical. The stars of the cast give surprisingly brilliant performances with their songs. Most notably Gene Wilder with "Pure Imagination." and Jack Albertson singing "I've got a Golden Ticket". The performances aren't the most important part of the movie. But it's definitely worth mentioning this comparison and what it ultimately adds to the character of Willy Wonka.
In the mise-en-scene seen above taken from midway through the song "Pure Imagination" we see a very melancholy, tired and almost agitated look on the face of Wonka. It shows this sort of anguish or pain that Wonka may be going through. Of course, the movie doesn't mean to do this. This is all down to Wilder's representation of the character. We'll never really know what this scene actually means.
But, from the representation given we can speculate certain ideas about what the character is actually feeling in this scene. As those that have seen the film know, Wonka sent out five Golden Tickets as a way of inviting young and imaginative minds to his factory. In the lead up to this scene, we see Wonka get his first interactions with the children. The look on his face may be one of dismay at the state of the children who have entered his factory. The view of anguish on the face of Wonka may be the pain of realising that these children aren't the right choice to run his factory when he is gone.
Still, there's no way of confirming this or not. It's a matter of the interpretation that we get on the screen. My personal interpretation is that Wonka is in anguish at the state of the children he has welcomed to his factory. For which he is now fearful for.
But how does that aspect make Gene Wilder's Willy Wonka an anti-hero? Well, it doesn't. However, if the idea is further expanded upon, you can see why a simple action of one of the children would flip the switch in Wonka's maniacal, almost schizophrenic mind. I speak about this later on in the article, but the thought that Wonka could all of a sudden lose it and turn into a danger. Throughout the film, Wonka is unpredictable in both his nature and ideas. It's easy to think that Wonka could access a dark side fairly easily. This is prominently shown nearer to the end of the film.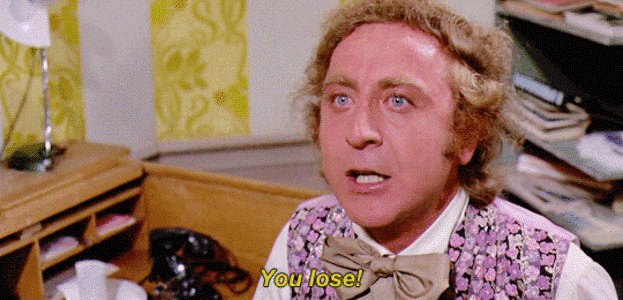 Like I said, Wonka would be able to access that dark side of his obviously overworked, angry mind. Wilder portrays this so perfectly in this scene. Charlie and Grandpa Joe had previously taken some Fizzy Lifting Drink, Wonka finds out, and begins yelling and screeching at both Charlie and Grandpa Joe. It's interesting to note that Gene Wilder was actually against this idea. His off screen relationship with Peter Ostrum (Charlie) was a friendly one. Regardless of that, Wilder throws his heart into this performance and gives it his all in the scene where he loses his temper.
"It's here, black and white, clear as crystal. You stole Fizzy Lifting Drink, you get nothing! You lose! Good day, sir!"
Gene Wilder, Willy Wonka and the Chocolate Factory (1971)
The personal pronouns used throughout that quote are what interests me the most. Throughout the scene, his eyes wildly fixate on Charlie, but not on Grandpa Joe. This fixation, coupled with the repeated personal pronoun "you" indicate that Wonka is angered with Charlie. That original dismay of the five children finally breaking through the surface and coming out as an emotional blurt of anger, towards the only child with a Golden Ticket to not be mean spirited. Still, it shows that Wonka is ready to burst and sometimes can't contain the anger and overall stress of his job.
Furthermore, this scene provides evidence again to the theory that Wonka is either schizophrenic or something as serious as this. As soon as this scene comes to the climax, Wonka finishes yelling, turns to his desk, and moments later he's back to his jolly, enigmatic self. Such a transition is done perfectly by Wilder and really just presents a character we can't relate to for all the right reasons. We can't relate to Wonka because he's arguably quite insane, flipping the mood he's in at a moment's notice, it's a borderline deranged ability this version of Willy Wonka has.
Wilder's unscripted boat ride speech is probably one of the most infamous moments in the film. The remaining visitors to Wonka's factory all aboard a boat with Wonka, who takes them along the chocolate river. A peaceful scene quickly turns into a scene that could've been straight out of a horror film. They enter the tunnel and Wilder begins his second and final song of the film, a large juxtaposition to that of "Pure Imagination". He begins reciting "There's no earthly way of knowing which direction we are going". A fun boat ride turns into Wonka, manically staring into the camera. The peak of the performance is midway through, where the camera cuts to those sat on the boat with Mr. Wonka. The genuine fear present on the faces of those around Wonka is spectacular.
The most notable reaction is that of Mr. Salt's reaction to the situation. The majority of the characters respond with a puzzled face and genuine fear, unlike Mr. Salt. In a way his reaction is an interesting one, as he begins to utter the words of the song along with Wonka. We'll further talk of Wonka and Salt's relationship later, but for now focusing solely on the boat ride.
"Is it raining, is it pouring. Is a hurricane a-blowing"
Gene Wilder, Willy Wonka and the Chocolate Factory, 1971
They fly down the tunnel on the boat, as horrifying features appear on the tunnel to the sides of them. Videos of millipedes, vultures and a whole host of negative features appear on the tunnel walls, one of which being Slugworth. As we know, Slugworth turns out to be a good person after all, as he works for Mr. Wonka. So from this, we can probably assume that the fear given off by Wonka in this scene is intentional. Wonka manages to bring things that all members of the boat have seen and may be fearful of.
Either that, or Wonka has used some form of gas and poisoned his guests, either way he enjoys bringing fear to other guests. It's evident from this that Wonka is some form of sadistic man that either enjoys the suffering of others or he's doing this for his own amusement. Whatever the case, this is probably the best example for the anti-hero of Wonka. It shows he doesn't care and he's doing this for his own amusement.
This idea of childish amusement is present throughout the film. Especially when Augustus Gloop is stuck in the pipe. This mise-en-scene is taken from the scene where Augustus is stuck in the pipe and the pressure begins to build up behind him. Obviously from this scene we can see Wonka's wild, childish mind working. His vivid smile spread across his face as he eats chocolate. Watching a small child being sucked up a pipe and most probably in a horrifying experience that would leave scarring emotional damage. But, it's funny to Wonka for some reason. It's never really expanded upon why he said this but it complements the scene and the anti-hero idea rather well. He doesn't care for the safety of anyone in the factory. Everyone signed the contract on their way in.
"I'm a trifle deaf in this ear"
Gene Wilder, Willy Wonka and the Chocolate Factory, (1971)
His interactions with Mike TeeVee are rather interesting. In a way it again shows the sarcastic nature of Wonka and his lack of care for the safety or benefit of the children in his factory. Mike asks a genuine question about his factory, and Wonka responds by not answering. In a way it could show that Wonka doesn't even like children, as mentioned previously. He really doesn't get along with the majority of the children. From laughing at Augustus getting stuck in the pipe to swinging Mike TeeVee in a bag when he's been shrunk. There seems to be a large amount of anger towards the children. It's scenes like this that really show his anger towards children.
Also seen in this scene is the Everlasting Gobstopper, a main plot point of the five children as if they hand one of those into Slugworth, they'll receive a cash prize. What's interesting is that Wonka is extremely reluctant to show them the machine he uses, but more than happy to give them the product that has yet to leave his factory.
A prominent scene in this film and possibly one of my favourites is when we first meet the character that is Willy Wonka. Staggering towards the masses of crowd, limping with his cane. His cane becomes stuck in the concrete, and he goes to fall, but rolls and jumps up to a thunderous round of applause. What's so amazing about this film is that the scene is a good thirty seconds or so long. No audience noise. just the tapping of Wonka's cane on the bricks. It almost creates this tense, underwhelming feeling, almost as if this is who the chocolate inventor is. They see a chocolate genius. Presented like this people aren't really sure what to do.
Wilder went on record to say that the reason he wanted to perform the scene like this was because from then on, the audience would never know what to expect and would be unable to distinguish what Wonka believed was real and what was fantasy. In a way, this is very true, we never get a clear perception of Wonka. We see him flip from every emotion imaginable and it all stems from this one scene. One single scene sets the perfect tone for the entire movie.
In the same year, Wilder filmed Young Frankenstein. A black and white comedy that had Gene star alongside British comedian Marty Feldman. In that movie, Wilder plays Frankenstein's grandson, hopelessly trying to escape the stigma his name holds. Eventually, he resorts to the experiments his grandfather undertook. The comparison between Wonka and Frankenstein can be seen in this scene.
Again, the maniacal, almost mad-inventor like Wonka appears, walking around his factory. Stunning everyone with his extremely odd ways of making chocolate. (putting coats and shoes into boiling water, cycling to stir some candy).Wonka's factory is a magical place to be in, but the methods he uses of mass producing chocolate is through slavery and alternate ways of cooking.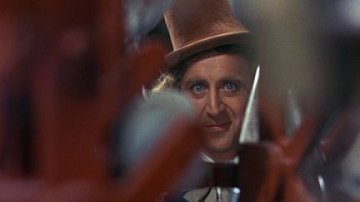 The manic eyes of the anti-hero as he stares at one of his largest creations. Showing again this mad inventor style of Wonka. There's lots in this scene to show the sadistic anti-hero that Wonka really is. The wild eyes. The manic stare. Looking at the machine that creates a piece of gum that blows up a child. His nonchalant approach to the danger his machines pose is of little interest to him. Wonka is more interested in destroying the children in front of him. The ones he welcomed to his factory.
I mentioned previously that Mr. Salt interacts the most with Wonka throughout the movie, and this is possibly for several reasons. One prominent reason I can think of is that Roy Kinnear who plays Mr. Salt was one of the prominent stars of the film. As seen by the above quote, we see Wonka and Salt have one of their many interactions. Mr. Salt in this film is presented as quite an arrogant, submissive parent to Verruca Salt, whom he is constantly trying to please. In a way, that of his daughters traits are apparent in Mr. Salt, which makes it even more interesting as to why Wonka would associate with such a horrid man. Especially when you consider other adult characters such as Grandpa Joe.
Overall, Gene Wilder's presentation and performance as Mr. Willy Wonka is one that defies Propp and the basis of examples for that. Willy Wonka is the eccentric hero of the story, that idea is obvious. But, when looked into further you soon realise that Wonka isn't all he seems.
Is Wonka really an anti-hero though? The fan theories say yes, and personally, I say yes too. His manic, unique nature of not only him and the factory is something we never saw in any other adaptations. It's a performance that leaves a lot for interpretation. Wonka may be a chocolate innovator, but it's down to your own perception what's actually going into the chocolate.